Hofstadter's Law states "It always takes longer than you expect, even when you take into account Hofstadter's Law" which certainly seems to apply to my life at the moment. So I'm sorry I've been away from posting for a little longer than I expected, and I have still not caught up with autumn prep!
I have however been away for a few days to Bruges and while I was there I accidently saw the most amazing exhibition.  You know when you stumble upon something really beautiful and it stops you in your tracks…
We have been to Bruges before and I knew I wanted to go back to the Hospitaalmuseum, Sint-Janshospitaal to revisit the Hans Memling paintings.
I haven't studied art through the traditional university route, and one of the few areas I feel I missed out on is a directed study of art history, so I am gradually piecing together my own knowledge by studying the history of paintings that I like.
I loved the Memlings on my last visit: in fact I was pretty much bowled over by the whole Flemish primitive movement, so when I came back I read up on it.  I am particularly interested in the portrayal of fabric in these paintings, an interest that I think dates back to research I did years ago into medieval embroidery.
Anyway – I'm starting to waffle, which is ok in storytelling, but not in blogging! – On the way to see the paintings I was stopped in my tracks by the most stunning sight. A huge well lit plinth containing the most amazing little alabaster monks, each about 16 inches tall.   These are "The Mourners" from the Tomb of John the Fearless of Burgundy. They were designed to weave in a perpetual procession of grief around his tomb.  Each mourner is exquisite. Their expressions convey the real emotions of grief and loss and their immaculately carved clothing and accessories further enhance their reality and humanity.
This Tomb and the Tomb of Philip the Bold are now in the Musée des Beaux Arts in Dijon, but their medieval galleries are closed for refurbishment.  The tombs themselves can't be moved, but the mourning figures from both tombs have been removed and rather than being stored away, those of Philip the Bold have gone on display elsewhere in the Museum and those of John the Fearless went on a tour of America!  They are back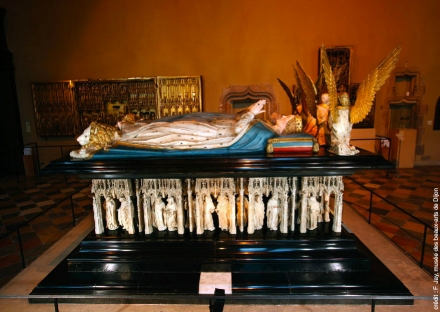 in Europe now and we were lucky enough to stumble upon them. Their next venues are the Bode Museum in Berlin from September 13th 2012 to February 2nd 2013 and then on to the Musée de Cluny, Paris from February 27th 2013 to May 27th 2013.  If you are lucky enough to be in either of these cities, you really must go and see them.
I could wax lyrical about these statues for a very long time, I found them to be so deeply moving. Do have a look on the Mourners Website to see them all.  Particularly look at the detail of the accessories, books, bags, roasary beads, daggers and purses.  There are also images and a short video (also on You Tube) on the LACMA website (Los Angeles County Museum of Art)  The photos are by Jared Bendis and François Jay and are copyright FRAME 2010. The website says they can be used for personal, educational and non-commercial use. FRAME is the French Regional American Museum Exchange which has organised the tour.