I have now run the explore and draw activity at Ordsall Hall twice, which involves children and adults using a cardboard magnifying glass shape to find a pattern, texture or interesting aspects of the hall for me to include in my final piece. I ran it as a drop in and unfortunately the days I was there were poorly attended because of weather, the Great Manchester Run and the road to the hall being closed to traffic. However quality ruled over quantity and the children (no adults) who did participate produced some fabulous images for me to use in my design.
The image above and the one immediately below are of the carved grape design from the main exterior window surround. There is a hand carved facsimile of this in the Frederic Shields Gallery and two children were drawn to this, a young boy aged around 5 (above) and Vicki aged 11.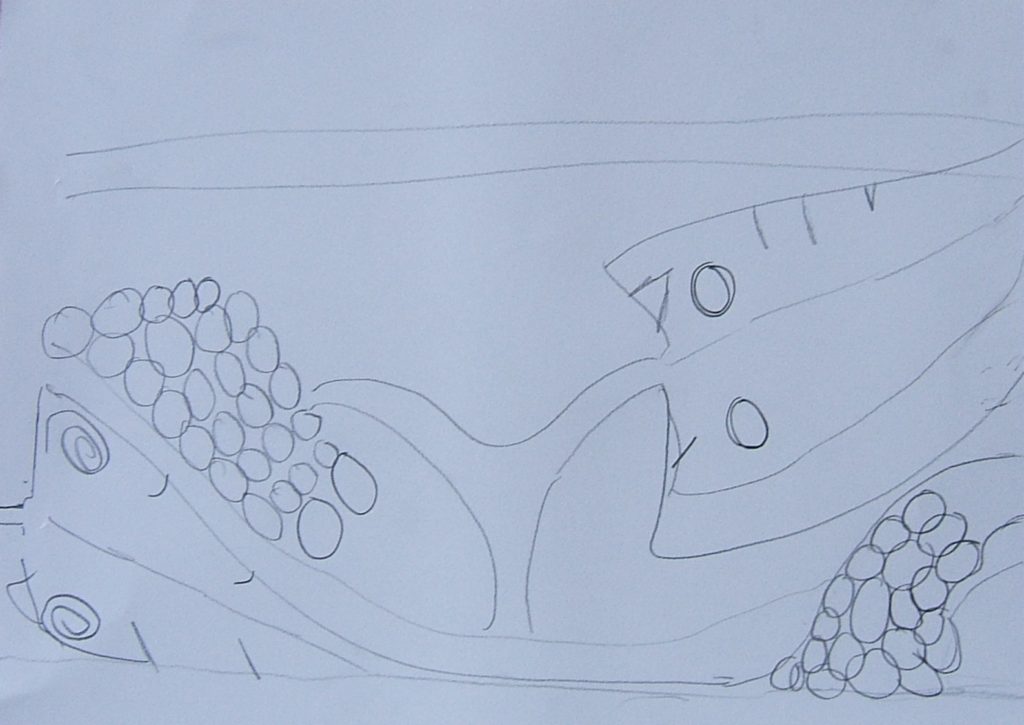 As you can see the images are clearly of the same thing, but very different and interesting from a design perspective,
Here are the other drawings:
The Frederic Shields Gallery by Lydia
Detail from a chest in the Frederic Shields Gallery by Niamh
Detail from a chest in The Great Hall by Daisy
Bread and bread board from the table in the Great Hall and the Sun! by Lewis
Patterns from ceiling/light fitting in the Great Hall (sorry about the poor quality photo, I'm not sure what happened but I didn't want to exclude James' picture because I made a mistake).
The drawing of the boy above was done by a boy of about 4/5 who asked if he could draw in my sketchbook during my "Cherished memories" session at the Hall. He drew on the same page I had started to draw a knot in the wood in the cafe. He was very cross when his little brother aged about 3 grabbed it off him and started to scribble. It was only when they had left that I realised his little brother had copied my drawing!
Add here's my picture of a star shaped knot in a pillar in the Frederick Shields* Gallery
*Frederic Shields (14 March 14, 1833 – 26 February 1911) was a British artist, illustrator and designer who lived at Ordsall Hall when it was used as apartments in the 19th century. He was closely associated with the Pre-Raphaelites through Dante Gabriel Rossetti and Ford Madox Brown.