On Friday I was involved in a really interesting facilitation with a local charity, IAS (Imagine, Act, Succeed) which supports adults with learning disabilities in the community. They are, I think, quite groundbreaking in their approach to supporting people and are passionate that the people they work with are involved not only in their own decision making, but the organisational decision making too.
It was interesting because they are looking at how to ensure that people participate in social and community activities in a more natural and subtle way, while maintaining a high level of professionalism. This will involve developing a new policy around community involvement, and the meeting was to explain the concept to the group, get their views and concerns and to feed these into the policy.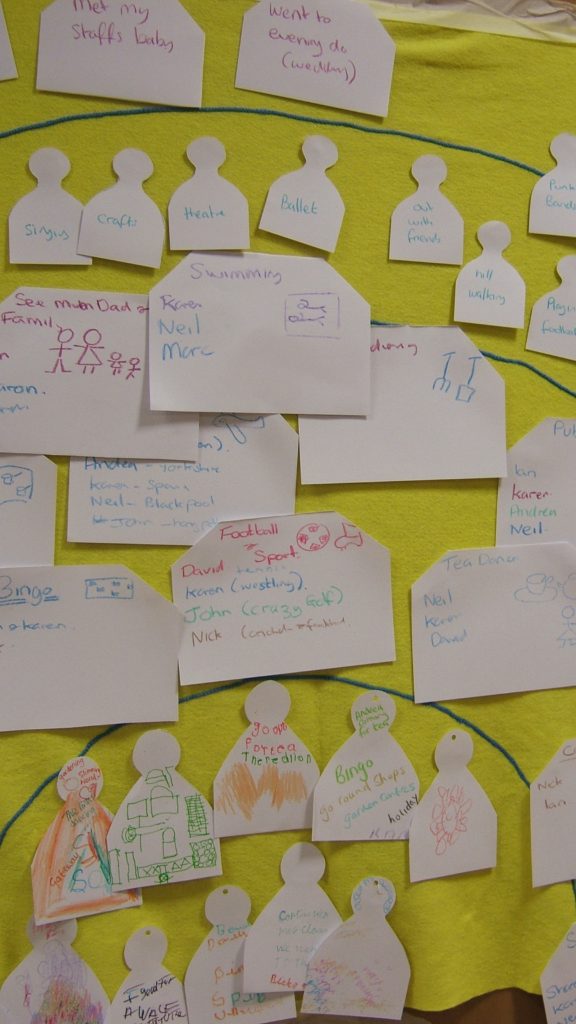 Adapting the Circle of Friends tool (why create something new if there's something that already works?), I created a "Rainbow of Participation" in felt that we could attach people and building motifs to, and that could be moved around during our discussions. Starting at the centre, each person discussed what they do as an individual in the community and the interests they share with others in the group. Then we went on to discuss activities that staff and families engage in and that they would like to try. Finally we discussed activities they have been involved in with people from outside their immediate network of people with learning disabilities, family and paid staff.
This provoked serious and interesting discussion that will feed into company policy. At what point do the staff, management and company "let go" to ensure people naturally become included in social and community groups? Where do you draw the professional boundary on the blurred area of paid staff also being a natural and trusted link to social and community activities outside of their working role?