My kantha quilted hanging "Waiting for Tide and Time: Crosby Beach", which was recently exhibited at The West Lancashire Open at the Chapel Gallery in Ormskirk,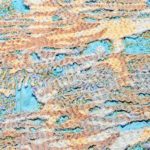 has now been selected for the Warrington Contemporary Art's Festival which opens this Friday, so I am over the moon.  As I have previously blogged about this piece and put up numerous photos of it, I thought I would let you have a peek at my new work instead.  I'm effectively experimenting with the same processes and themes but constructing my ground differently.
I made a decision earlier this year not to buy any more fabric and threads until I had used at least half of what I have got, the caveat being that I can buy more IF it enables me to use another bit of my stash (a girl's got to have a loophole!)  Part of my fabric stash includes a quantity of holiday souvenir head scarves inherited from my aunt. Many of them are viscose which means I can apply the devoré process I learned from Dionne Swift and which I successfully applied to the hanging that has been accepted at Warrington.
These scarves fit very nicely into my theme of the fragility of memory and how we try to preserve our memories by attaching them to objects.  They are memories of her holidays or maybe even holiday gifts from her friends but now they are mine and I can't bring myself to get rid of them because they were hers, and she always had a head scarf in her bag and a pair of leather gloves.
I love traditional pat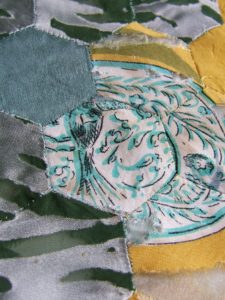 chwork and have thought for a while that pieced patchwork could be used as a metaphor for fragmented memories.  What would happen if I pieced the viscose scarf and applied devoré to it to create an eroded effect?
Well, one of her scarves happened to be in the same colours as some fabric samples I dyed on Dionne's workshops: a grey green viscose/silk satin for devoré and pieces of cream silk, cut from a second hand bridesmaid's dress, some dyed orange and some grey/green.
Tip: If you go into a charity shop to buy a really pretty pure silk child's bridesmaid dress that is in the window for £3.50, do not under any circumstances say you are going to cut it up when the elderly volunteer says "Oh it's so beautiful. Is it for your wedding?"… Lie! Tell her it's for your niece or you will have to watch her happy smiley face crumple with disappointment and horror like I did.  Nobody who devotes their time to charity deserves that!
This scarf from Mallorca also had little images of the sort of souvenirs people buy on holiday, something that also fits my theme. I liked the idea of cutting my hexagonal pieces from these objects and piecing them back together. They would still look like objects but would be distorted.
At first I didn't like the results and put it away as a sample, but getting it out again today and seeing it afresh, I really am pleased with it. There's still a way to go. I think it's still a bit clunky and too solid – it needs to be more ethereal and fragile – but I can feel my work progressing and think I am beginning to find my own voice…